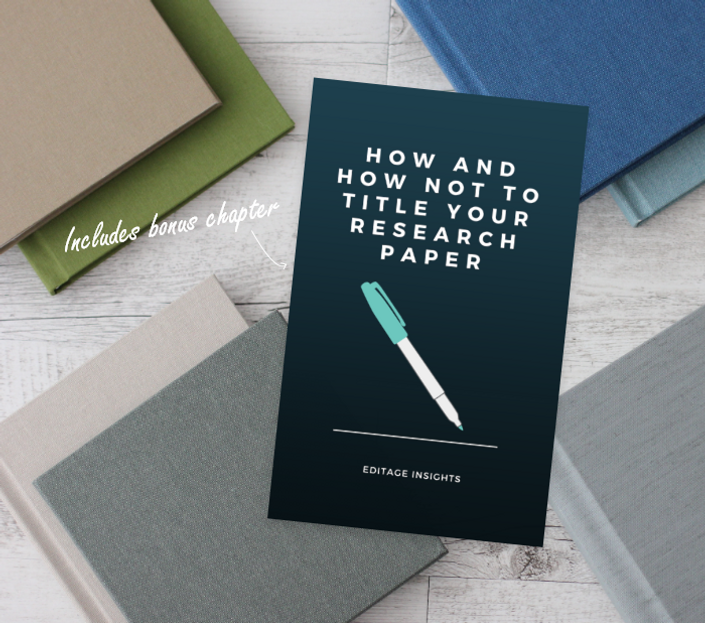 How and how not to title your research paper - A handbook for authors
What will you learn?
A 5-step method with examples to frame the perfect title
Tips and guidelines to make your title crisp, error-free, and discoverable
How to build context and relevance in your manuscript title
Using a checklist of must-do's when writing your title
Course Description
At some point of time, every research author has asked, 'Is the title of my paper good enough?' This is because the title of your research plays a vital role in getting your work noticed. The power of an effective title is such that it can influence a reader's decision to read the rest of the paper. But how do you craft a winning title?
To solve your dilemma and answer your questions, this training program for researchers, created in the form of a handbook, takes you through the entire process of writing a title, while giving your expert tips that will help you frame the perfect title. With the help of this handbook, you will master the art of creating a great title that is compact, appealing, and most importantly, makes your paper discoverable.
What topics will you cover?
Lecture 1: Of newspaper headlines and research paper titles
Lecture 2: Should a title be catchy or straightforward?
Lecture 3: How to write a title: A handheld exercise
Lecture 4: The hallmarks of a good title
Lecture 5: A checklist to finalize the title
Lecture 6: Conclusion
Lecture 7: Bonus - Tips on writing a winning title
Your Instructor

Sneha's interest in the communication of research led her to her current role of developing and designing content for researchers and authors. She publishes articles and creates educational content that provides researchers and authors insights into the latest developments and trends in the publishing industry. She is also passionate about teaching ESL and EFL teaching.

Course Curriculum
How and how not to title your research paper
Available in days
days after you enroll
Frequently Asked Questions
How does free trial work?
Before you subscribe to R Upskill, you can take advantage of our 14-day free trial, which gives you all the benefits of an All Access Pass for free! With complete access, you can start learning during the trial. You will be eligible for a completion certificate for any course you complete during your free trial. Please note, you are only eligible for one free trial, which will automatically become a paid subscription on the 15th day, unless you cancel your 14-day free trial.
I want to cancel my subscription plan. How do I do it?
If you change your mind, you can cancel your subscription plan at any time. Go to 'My account' and click on the 'Manage subscriptions' tab and follow the simple steps to cancel your plan.
For how long can I access these learning resources with the All Access Pass?
The All Access Pass gives you unlimited access to all the courses and handbooks for a month or year, depending upon the subscription plan you've purchased.
Do you offer a refund if I cancel my plan?
When you start a free trial, you are only charged on the 15th day, when it turns into a paid subscription. We do not offer refunds on paid subscriptions, even if you cancel your plan. However, you will still have complete access to all our learning programs till the end of your billing period.
Please Log In or Sign Up if you have already subscribed to R Upskill Membership.
If you haven't subscribed yet, Become a member now to access the courses.
Happy learning!